I have been very busy and heavily slacking on my blogging!! It seems like I blog in spurts! I am going to try harder to blog more regularly! I promise! Side note: I have no clue to moms who have a full time job in/out of the house blog, take care of themselves and their families! I may need to improve my time management skills!
On a different note! We are almost done furnishing our home, except for my dining room chairs that have yet to come in, the coffee table have yet to order and the MANY accessories I feel like we need for our home! When does the task of decorating your home ever end?? I have blogged a few photos (not very good quality! I need to add a new camera to my "List of Things to Purchase for our Home") of our home
here.
I have of course changed a few things around since I posted those photos.
I am anxiously waiting the day that our home looks "Finished" like the rooms in the photos below!
I have no clue where this photo came from... If you know, fill me in, please/
This could perhaps be our Master Bedroom. (I really thought I posted a photo of our Master Bedroom when I posted photos of our home earlier on my blog, but I guess not.) (Note to self: Take new photos of our home to post on my blog that I am going to regularly update.) I love the neutral background for this room, with punches of color in the sofa and rug. We need more color in our bedroom!! Imagine dark wood floors (I have not purchased any rugs yet for our room), all dark wood furniture (except for our bed which is from Pier1 circa 2003), and this bedding...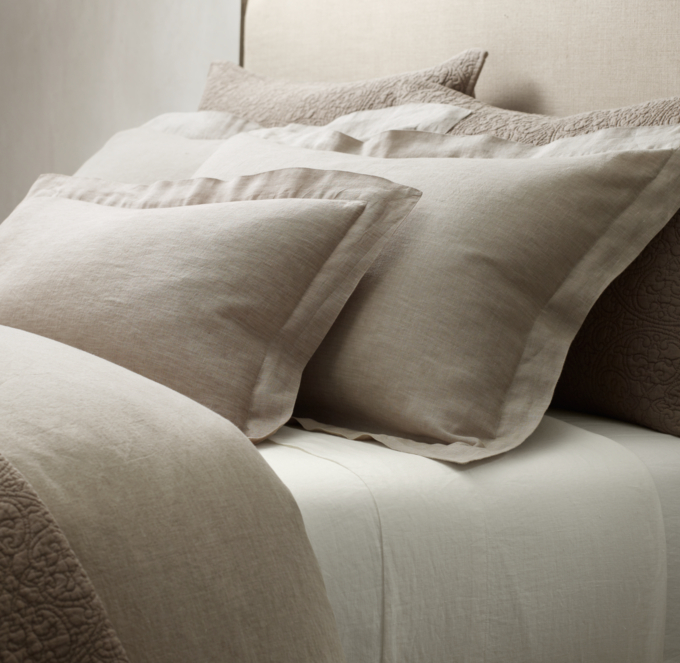 Restoration Hardware
Our bedroom is probably the most boringly neutral room in our house and definitely needs some color! That was a long rant about our bedroom... I know, but something needs to be done about it!

This could be our office... which right now only houses a desk and an armoire. (That I am trying to sell on Craigslist, that only scammers are attracted to!)
House Beautiful
Cottage Living
All of this furniture would not fit in our tiny office, which also needs to double as an additional guest room. However, imagine a desk on one
Or this instead of a desk... I'm leaning towards this, but we already have a functioning desk in there. One step at a time Emily...
Our guest bedroom looks very similar to this room...
Pink Wallpaper
However, our guest room does not seem very warm to me like the one in this photo does. (I really need to post photos so you can judge for yourself.)

We will leave it at the bedrooms today... Our front living room is almost 'complete' and our dining room is waiting on it's chairs to be delivered to become finished...

Our kitchen and back living room are another story... Be back soon with more photos of our home!
Happy Friday!!